The Indulgent Escape Ritual is not just a treatment; it is an escape — a restorative journey that nourishes not only your skin but also soothes your soul.
As we transition between seasons, naturally the skin can suffer from dryness. This is only emphasised by the fluctuating temperatures we experience from being cold outside and then going into heated rooms indoors. The Indulgent Escape Ritual uses products from the Oskia skincare range designed to provide much-welcomed rehydration, improving the texture of your skin. Oskia's commitment to using natural and effective ingredients ensures that each touch is not only a gesture of relaxation but also a rich treatment for your skin, melting away tension from your facial muscles.
Discover The Indulgent Escape Ritual Process
The journey to relaxation commences from the moment you lie down on the heated treatment bed beneath the gentle glow of the dimmed twinkle lights. The soft, soothing music playing in the background adds to the serene ambience, curating a tranquil and comforting setting.
The ritual will begin with a reflexology point massage. A gentle pressure is applied to the solar plexus on the feet – the area responsible for your core energy and emotional grounding. Followed by a sequence of calming deep inhalations.
Scented with Oskia's signature Rose-Lychee perfume, a nourishing cleansing balm followed by warm mitts will be applied with gentle pressure to the eye area to remove any impurities and prepare your skin for the indulgence that follows. Rich in youth-boosting vitamins, minerals and prebiotics to deeply cleanse, decongest and soothe, this velvety cleanser is perfect for the colder conditions to restore moisture levels and will leave the skin refreshed.
With the impurities removed, the Oskia Liquid Mask, infused with lactic acid, hyaluronic acid, super nutrients and multi-vitamins is applied. This is designed to condition and revitalize the skin. As this absorbs, your therapist will begin the Indian acupressure head massage. The gentle and rhythmic movements are applied to the scalp, temples, and forehead, aiming to release tension and improve circulation; as well as stimulating and re-balancing the flow of energy throughout the body. As you bask in its restorative effects, tension dissipates and a tranquil ambience envelops you enabling you to fully unwind into ultimate comfort.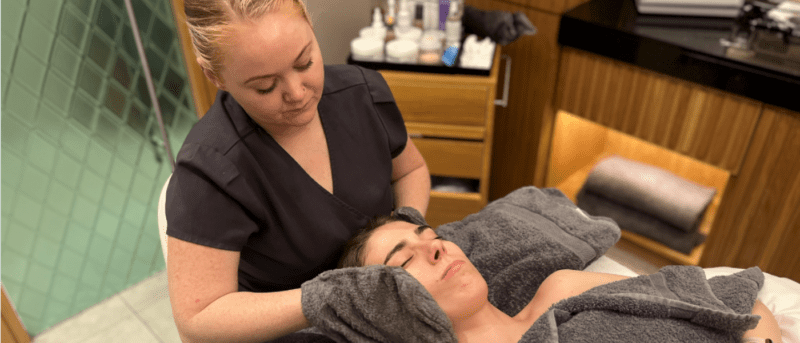 After the Oskia Liquid Mask is removed using warming mitts, your therapist will apply nourishing products tailored to your skin needs. Employing a combination of techniques that stimulate circulation, reduce tension and promote a radiant complexion. The Oskia Signature Glow massage uses a combination of anti-ageing and glow-inducing techniques to uplift the skin and leave the face, body and mind feeling rejuvenated and the skin visibly illuminated, hydrated and toned.
The Oskia Rest Day Moisturiser is applied as a mask towards the end of the facial, to strengthen the barrier function and reduce redness and irritation. Resulting in your skin being smoother, stronger, and more supple. Its subtle scent of oats is an added sensory benefit which helps to provide a continued sense of peacefulness.
As you remain enveloped in the duvet, you can bask in a moment of warmth as the therapist seamlessly transitions to the neck and shoulders, addressing the knots and tension that may have accumulated in this often-neglected area. Using a combination of soothing oils and expert massage techniques, the therapist works on kneading away the stress and tightness. The rhythmic motions of the massage promote increased blood flow, releasing built-up tension and leaving you with a profound sense of relaxation. To complete your experience, a stimulating compress of warm mitts followed directly by a cold towel is held to your face to close your pores and lock in all the nutrients absorbed throughout the experience.
The Indulgent Escape Ritual Products
All the products used in the Indulgent Escape Ritual are from the Oskia skincare collection. Our therapist-recommended best sellers from the Oskia Ritual include:
Isotonic Hydra-Serum

– Clinically proven to increase hydration by up to 34% after 1 hour, this serum works to match the osmotic pressure of the skin cells, allowing for efficient absorption, which locks in moisture, visibly improves the skin condition and texture as well as added illumination.

Renaissance Mask

– With its luscious pink hue, this mask is a powerhouse of nutrients that infuses your skin with a burst of hydration and a surge of vitality. Enriched with vitamins, fruit acids, and bio-actives, this product is used by our therapists to smooth, soften, and reduce the appearance of fine lines, and imperfections and refine the skin's complexion. The delicate fragrance of rose and chamomile, elevates this product beyond mere skincare, transforming it into a holistic sensory escape.

Rest Day Balm

– Enriched with a thoughtful blend of nourishing botanicals, vitamins, and essential oils, this balm is a haven for skin in need of restoration. The restorative benefits of antioxidants such as rosehip seed oil and calendula extract work harmoniously to soothe and repair, promoting a radiant complexion for tired skin. Its velvety texture glides onto the skin, absorbing effortlessly and leaving a soft, supple finish.
These key spa products from the Oskia Skincare range are available to purchase from The Spa at Carden's retail store.
Book a spa treatment