The Time To Pause ritual is an all-encompassing treatment that promises to cocoon the body with indulgent products and a soothing touch. Time seemingly stands to a halt, as you are guided through a full-body experience with elements of all of your favourite spa therapies combined into one. The product house for this treatment is Germaine De Capuccini.
The Body Element
To begin your time out from the chaos of day-to-day life, your therapist will guide you through a series of deep, aromatic inhalations followed by a gentle foot cleanse. This subtle sequence will guide your mind and body to a state of relaxation as you sink into the heated bed beneath you.
With a welcoming gentle pressure, warm pindas containing rose quartz crystals will be slowly guided along the back of your body. Their journey across your skin will release any muscle tension and pressures that you might be harbouring. Then cloth bundled crystals will be placed in your hands, like a comforting warm hug for your palms to enjoy during the treatment.
An exfoliating cream scrub will be lightly applied to your back in strategic, softening movements. This is full of naturally anti-oxidising properties found within bamboo plants, helping to renew your skin to its best. Once buffed with warm mitts, it provides the perfect setting for a soothing back mask application.
A combination of semi-precious hot stones will be used to glide the cream into your skin to absorb the core ingredients such as; hydrating aloe vera, and revitalising mint extract. The sensation will make you drift into a peaceful place, where the presence of another person in the room dissipates.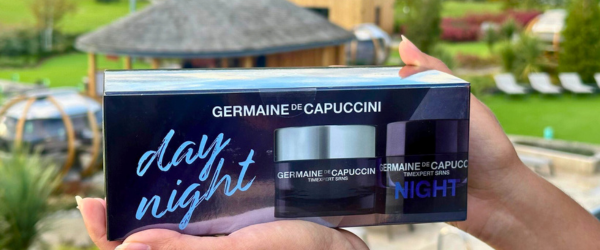 The Face Element
The facial element of The Time To Pause Ritual begins with a gentle eye and lip cleanse. This cream embraces the natural properties of chamomile extract. With its proven delicate healing properties to reduce redness and well-regarded anti-ageing benefits.
After the impurities are removed, you will follow a sequence of cleansing, toning and exfoliation. Most notably while you enjoy the sweeps of the therapist's hands across your cheeks, you will be engulfed in a journey of delightful aromas; from floral notes to sweet shea butter extract, you are transported to a tranquil disposition. The essential nutrients applied will penetrate deep below the surface leaving your skin soft and velvety to the touch.
A carefully curated recovery facial mask is perfectly combined with rosehip oil and applied as a direct melting layer onto your skin. This is then massaged in by using cooling onyx and obsidian stones with toxin-draining movements. The semi-precious white stones are known to alleviate both mental and physical stress, as well as neutralising any external irritations.
A silky moisturising cream, serum and eye cream will then be applied. These intensely rejuvenating spa products will continue working to hydrate your skin long after your treatment reaches its conclusion. Your treatment will be rounded with a succession of satisfying neck stretches and pleasurable foot pulls. The perfect finale for those who suffer from stiffness and poor posture.
"This treatment will leave our guests feeling rested and recovered through our naturally healing products and techniques. The positive energy released in the ritual through the massage stones will leave both your mind and body feeling content."
Emma Hawker – Germaine De Capuccini Brand Ambassador.