Carden Park Hotel is delighted to announce the opening of its new Sculpture Garden and exhibition. Curated by Grant Ford, BBC's Antiques Roadshow expert and Fine Art curator, the Sculpture Garden is set against the stunning backdrop of Cheshire's 1000 acre luxury resort. Each unique piece will be available to buy through Grantfordltd.com, with prices starting from £1,000 to £320,000 (exc. VAT).
As a new destination for art and beautiful design, entrance to the Sculpture Garden will be free and visitors will be welcome to view the works by leading sculptors and artists at both the Sculpture Garden and inside Carden Park Hotel. Suitable for the whole family as well as art lovers to enjoy, every visit will be a new experience with changing exhibits throughout the year. As outdoor activities continue to be hugely popular, Carden Park invite both residents and visitors to appreciate a slower paced cultural experience against the breath-taking views of the Cheshire countryside.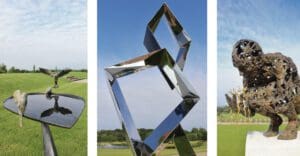 Grant Ford, curator of Carden Park's Sculpture Garden, said;
"When I first visited Carden Park, I was immediately struck by the stunningly beautiful countryside that surrounds the hotel. Sculpture provides the perfect marriage to the backdrop of luscious green rolling landscapes, tranquil lakes, old woodlands and big open skies. It offers us all a time to reflect and appreciate everything around us, resulting in a meditative and philosophical sense of the past, the present and the future."
"The main focus for me was the belief that many of us would be keen to venture out and explore the beautiful British countryside and there would be an appetite to look at wonderful art outside. With the enthusiasm of many leading sculptors and artists, together with the never-ending support from Carden Park, I believe we have created a really unique and amazing display."

To assist visitors, Carden Park have provided descriptive signage with QR codes added, that will take those who want to know more to a website with additional information about the artist and sculptures. Notable works include 'Looking at Life' (£85,000) a bronze statue by Rowan Gillespie, standing at almost three meters tall and part of a series of 'Looking' sculptures, exploring the idea of dreamers looking into the unknown. The 'TORUS' (£36,898) by David Harber, is a perfect circular piece created in stainless steel and slate, inspired by the elemental interaction of light, landscape and water. The 'Water Hut' (£14,000) by Giles Rayner is an interactive and whimsical piece cast in copper and steel, which guests are invited to sit inside.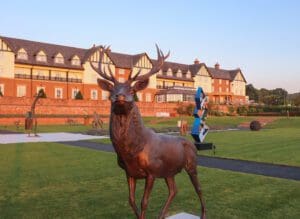 Director & General Manager, Hamish Ferguson said:
"We are always working hard at Carden Park to invest in projects that we believe are truly special and we are very proud of the exhibition Grant Ford has curated for us. The Sculpture Garden will be a destination for everyone; art connoisseurs and families are all welcome, and we'll continue to grow the world-class leisure offering we have at Carden Park."
When you visit the Sculpture Garden, please do not walk on the grass or touch the sculptures. We appreciate your co-operation.
Visit Grantfordltd.com to learn more about the artwork on display, or contact Grant at [email protected] or telephone 07770 787160.
To learn more about Sculpture and Art for sale, including new exhibits, please subscribe to Grant Ford's newsletter here.