Sunday 1st August saw the handover of the club presidency to Anne Dawson after she was elected. It was an incredibly exciting day for golf club members, especially as Anne is the first female president at Carden Park.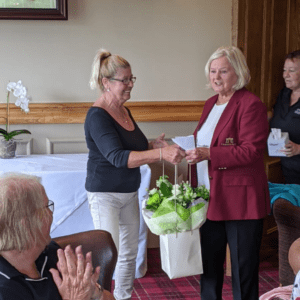 Maria Alzo-Miguel (lady captain, left) handing over flowers to Anne Dawson (club president, right)
Meet Anne
Anne joined the club as a founder member in 1995, and has been playing golf ever since. In 2000, she was made captain of the ladies team:
"I became lady captain in 2000 a little reluctant at first, but with the support of David Llewellyn and the exceptional lady members who rallied round on a daily basis."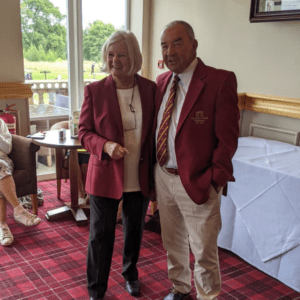 Anne describes how Carden Park has gone from strength to strength since becoming a member, crediting this to "the entrepreneurial vision of Steve Morgan" (Chairman of Bridgemere Group, the overarching parent company of Carden Park).
We asked Anne how she feels to be making history becoming the first female president, and this is what she said:
"I feel very proud and honoured to have been elected. I can assure the club that as president for the next three years that we will navigate this current COVID-19 storm, play great golf while taking our mind off life's stresses."
A few words from David Llewellyn
(Head PGA Professional)
"We are delighted that Anne accepted the position as honorary president. It's a 'thank you' for all of the hard work that she has put in over the years, she has truly earned it"