Recently, we've been speaking with members of #teamcarden for our Meet The Team features. This week we speak with one of our long standing Golf Services team members, Mike Lyons…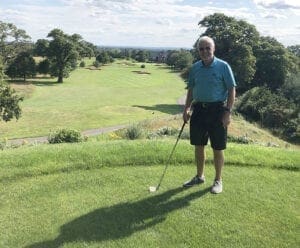 Hi Mike, how long have you been a part of #TeamCarden and What is your job within the team?
I have been a part of the team for 6 years and I work in the Golf Services department.
How did you get into golf?
I started in the Vauxhall Motors Golf Society about 30 years ago. Becoming a fully-fledged member of Vicars Cross Golf Club around 20 years ago. Moving to Upton by Chester 5 years later. Playing regular golf there and the occasional round here at Carden.
Which golfers do you take inspiration from?
I take inspiration from Sergio Garcia and Francesco Molinari because I like how relaxed they are and I admire molinari's swing.
Why did you choose Carden?
I was attending a BBQ with a friend who worked here. After a chat, he persuaded me to apply and It is one of the best moves I've made. I love it here!
Which is your favourite course to play?
Easy Choice – The Cheshire Course for me. It is more picturesque, has more character and is more of a challenge.
Any tips for any younger golfers?
Get lessons and practice.
Do you have any hobbies outside of Work?
I am big fan of cycling – I recently enjoyed watching a lot of the tour de france. I love the lake district and Snowdonia for taking walks in the mountains.
Thinking about joining the team? Take a look at our careers page here.