Our Five Step Guide to attending a Wedding Fayre: The Who, What, Where, When and Why…
1: Who do I take to a wedding fayre?
Who you take to a wedding fayre is solely based on personal preference. We would recommend taking a few different people if you are attending multiple wedding fayres to get a collection of perspectives and ideas. It's a great excuse to help people feel included in your special day too. Guests could include your bridal or grooms party, your parents, or close friends. Maybe you are at the stage where you are overwhelmed by other people's opinions on your special day? You can make your wedding fayre visit more intimate by attending with your other other half, or even go it alone. No one will treat you any differently whatever your attendee preference. Exhibitors are simply there to showcase their products and services to you and whoever you decide to bring along.
2: What do I need to take to a wedding fayre?
It really depends on what you want to achieve from attending a wedding fayre as to what you will need to take with you. One must-have is a big bag! You will receive a lot of leaflets and business cards. We would recommend you collect as many of these from vendors that capture your interest. Store all of the information collected in your wedding folder. You will then have contact details at your disposal for a later date, when you are ready to make decisions. Be cautious about how many times you provide your personal email address when attending such events. You want communication to be on your terms as much as possible, rather than be bombarded by marketing communications.
Another good idea is to have reference to any commitments you have already made. A popular thing to bring with you is colour swatches of your wedding theme. Have a folder saved on your phone of ideas you have liked so far, to decipher how the new vendors offering could potentially complement or even compare to them.
It would be a good idea to make sure your diary is up to date (physical or digital). Weddings can often feel like you are being pulled in a million different directions. For your own sanity make sure you don't get overwhelmed by appointment commitments you have made in order to establish further relationships with wedding service providers.
Finally, for the more organised folk amongst us, if you want a very productive visit to a wedding fayre make your 'hit list' before you attend the event. Are there certain elements of your wedding to-do-tasks outstanding that you want to tick off during the event? Feel open to focusing your efforts on the day.
3: Where should I attend a wedding fayre?
Often wedding shows will be based within an official wedding venue, so you will usually have access to explore a wedding day set-up for visual inspiration. It is a good idea to attend a few preferred venues of your choosing to see a staged wedding set up. This will allow you to imagine your moment, walking down the aisle.
If you already have your heart set on a specific wedding venue, you can still reap great benefits of attending a local wedding fayre. If you are visiting a wedding establishment near your chosen wedding destination, it is more likely to guarantee that the exhibitors will be able to provide you with their services, avoiding location restrictions.
4: When do I need to attend a wedding fayre?
Whenever you want to! Wedding planning is a very personal process, with some couples planning years in advance and others preferring a more short-term approach to their big day. No matter what stage in the wedding planning process you find yourself, there is useful information you can take from attending a wedding show.
Wedding fayres can be used to collect information during the early stages of planning to allow you to budget more accurately. Including the 'must-have' features you would like on your big day and their financial implications. It can also benefit the other side of the spectrum. Fine-tuning the final touches that give your wedding that perfected edge closer to your wedding date.
Wedding fayres are usually open for around 4 hours, but there is no real set time for you to wander in. It really is a day to be enjoyed at your leisure. There are often bridal catwalk shows throughout the day which you may want to attend, so keep an eye out for an official timetable.
5: Why should I attend a wedding fayre?
This is your real-life smorgasbord of all things wedding! You can browse the latest trends from interacting with genuine industry professionals. Removing the frustration of aimlessly scrolling through Google. Immerse yourself amongst a whole range of suppliers and wedding exhibitors that could fulfil various intricate elements of your big day. All of which can be found in one convenient location too.
Discuss your ideas face-to-face, where you will be able to ask as many questions as you require. There is no obligation to commit to anything. Especially with the expected time delays for many weddings between planning and execution extending all the time. If all you depart with is advice, it has not been a wasted trip – especially as many wedding shows are free of charge. On the notion of 'free', many exhibitors will be giving out complimentary goodie-bags on the day, to incentivise you to consider their offerings.
The main benefit is; Wedding Fayres are fun! Wedding fayre's, outside of the usual pre-wedding celebrations, are one of the most entertaining activities that you and your party can enjoy together. Indulge on being the center of attention over a glass of bubbly or two as you get inspired for the big event; Your Wedding Day!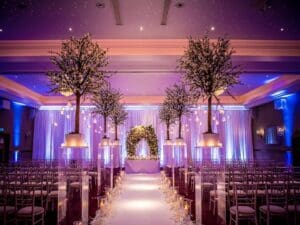 Save The Date!
Carden Park Hotel & Spa have teamed up with Bouquet & Bells to host Cheshire's most luxurious Wedding Show…
Entry is FREE for all visitors.
What you can expect….
Meet a huge selection of reputable exhibitors showcasing the latest themes & trends. Enjoy our show-stopping catwalk shows at 12pm and 1.30pm, as well as on-going live music from top musicians and reputable entertainers.
Make the most of exclusive special offers reserved for attendees.
Go and gather your bridal and grooms parties and make a day of it!
Get Tickets