Sion Huges, The Spa at Carden's Head Chef has quickly become one to watch in the competitive chef arena. We are very lucky to have him as a part of the hotel team. He has embarked on a successful journey for the Global Chef Challenge where he will be competing in the final in Singapore in 2024. Sion has answered a few questions about his experience below:
How did you first know you were interested in becoming a chef?
I've loved cooking, since around the age of 5 maybe 6. I was always in the kitchen after school and on the weekends helping my family with the cooking. I distinctly remember having a baking recipe book and my go-to choice would always be to make a banana bread loaf. There was never too much left by the end of the day!
How did this senior chef competition differ from the junior competition?
It was actually a lot different. It was definitely much stricter than the juniors, in the sense the smallest of mistakes can cost you a lot of marks. The expectation of you not making rookie errors is very high, which is to be expected at this level.
Talk us through how you prepare for a chef competition?
Simply with a lot of practice. Firstly I needed to plan the menu, which isn't easy as you have the think of the balance of efficiency of the dishes with the time you have. Then you need to do multiple full run-through practices. And lastly, work to refine the dishes and recipes (to have as little waste as possible) and ensure all the equipment is sorted. There are a lot of logistical considerations that come into play when competing, including; transport, getting equipment/ingredients at the venue etc.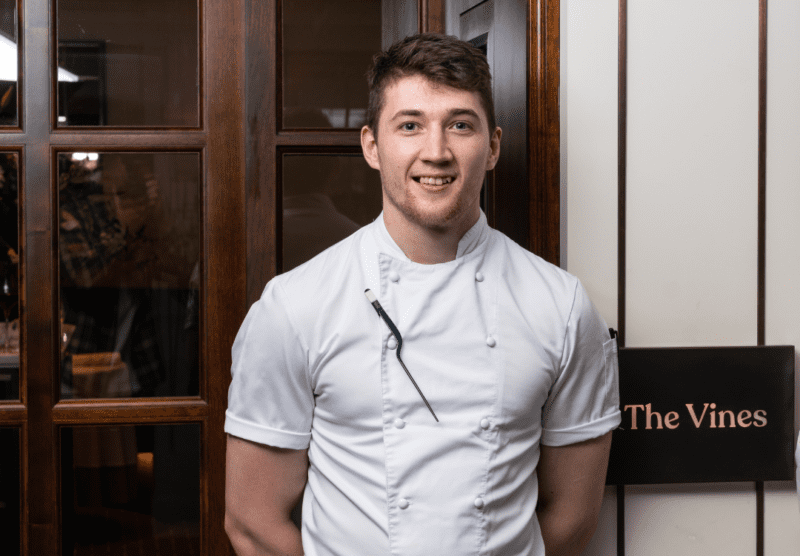 What dishes did you prepare for this round of the Global Chefs challenge?
My starter consisted of a citrus-cured halibut loin (which was part of the brief), lobster tartlet, and horseradish mousse, accompanied by a cucumber and a buttermilk sauce. This dish has actually become part of the menu in our fine dining restaurant near Chester (The Vines).
My main course was a cured and roasted fillet of veal, braised sweetbread (both part of the brief provided), set mushroom mousse with toasted yeast, fresh peas, baby gem lettuce and a veal sauce finished with mustard seeds. A winning combination of flavours.
What factors do the judges look for when marking?
You start with a total of 100 marks. 50 marks go on taste and the other 50 count rewards everything else. The judges are looking at absolutely everything you do. There were a total of 12 judges watching 6 small kitchens so there is plenty of them around to pick up on the smallest of details. They want to see you are keeping your area clean – hygiene is a big thing they look for – as well as factors such as you're working well as a team. You get an allocated time to complete your competition, for every minute over that you take, you are risking losing a point. With the level of pressure of it being a competition, with all the factors involved with performing well it can be easy to make a minor slip up which could then cost you a lot of points.
What and who inspires you on this journey and motivates you to enter into culinary competitions?
Since starting at Carden Park I have had a big interest in competing. The team behind the Cheshire restaurants have a great history of competing, especially with our executive chef Graham Tinsley MBE playing a key role within the Welsh Culinary Team. I started competing around 12 months after starting at Carden Park and soon became hooked on it for my personal progression. I've taken part in 9 competitions now and I am proud to be part of the Welsh Culinary team.
Are you feeling confident for the 2024 Global Chef Challenge final?
Yes absolutely! You can't go into these competitions with the attitude of "I might not win this one" or "I'm not prepared". Although Calum and I have a lot of work to do for Singapore. Over the next 18 months, we will be working closely to fine-tune and practice everything the best we can to put us in the best position to achieve a great result. When you turn up on the day you just have to focus and do what you've practiced and if/when something goes wrong, you just have to find a solution calmly and do the best you can.
Tell us a little bit about how you started working at Carden Park and where it's taken you in your chef career so far?
I started at Carden Park in 2016 as a Commis Chef, I then had 5 months where I went to work at a 2 Michelin star before I returned as a Chef De Partie. I have since then progressed and moved up the ranks where I reached Sous Chef before moving over to the spa and taking my current role of Elements Head Chef catering for 5-star spa break guests. I have learnt a lot in the last six and a half years under incredible mentorship. I have gained a lot of experience that will help and benefit me for sure in my cheffing career and future competitions.
What is your favourite dish to cook from the Carden Park menu and why?
My favourite dish to prepare was a seasonal pigeon dish that featured on The Vines menu – Carden Park's fine dining restaurant. I liked it so much because the whole dish was very technical with the butchery of the pigeon and the consommé. Plus it tasted amazing of course.
If you want to sample Sion and his team's cooking we offer several gourmet dining break packages for you to enjoy.
View Dining Breaks Here