Including sustainable mocktail options for the sober curious
Helping to save the planet one tasty (and guilt-free) cocktail at a time, Carden Park Hotel has announced the launch of our brand-new No Waste Cocktail Menu. Recognising that waste is a huge issue in the food and beverage industry, our Head Sommelier Patryk Kapelinski and his team have put several inventive practices in place to reduce their impact on the environment where possible, so that guests can enjoy every sip with a clear conscience.
Our new sustainable cocktail range is available to enjoy across several spots within the Cheshire hotel. Including Goldie's lounge, Morgan's Bar, and our award-winning spa. The menu has been created to use the full potential of every ingredient. Examples of how the cocktails have been made with sustainability in mind:
Garnishes: Gone are the days of extravagantly huge, inedible, and single-use cocktail garnishes. When cutting a small segment of fruit for decoration, whether it be a slice of lime or a cube of pineapple, the team dehydrate any leftover fruit not used, making for delectable garnishes without the short shelf life. Sleek, simple, and cost-effective!
Infusions: Similarly, instead of throwing any leftovers away, the team infuse fruit or coffee beans into syrups and spirits for more flavour. This is also a great way for them to use up any wonky or imperfect-looking fruit as the customer never sees it!
Making cocktail foam: If there's one thing that can't be left to waste, it has to be champagne! That's why our team use leftover champagne from unfinished bottles to create what's called a cocktail foam. Not only is it a sustainable way to reduce waste, but it also takes what may have been a standard recipe and transforms it into a serious showstopper.
Growing our own ingredients: Carden Park Estate is home to its own herb garden, where many of the ingredients are not only incorporated into spa treatments but also used in the award-winning restaurants and bars. As well as being sustainable, this offers an added bonus of improved flavours and a fresher drink taste.
Going in season and local: For anything that can't be grown on-site, the hotel outsources ingredients that are both local and in season. Again, providing a more vibrant flavour, it's also a way for Carden Park to support the surrounding area and community.
Are you doing Dry January or just feeling sober curious? Patryk and the team take just as much cocktail creativity with their mocktail menu as they do their alcoholic offerings. Just as sustainable and sumptuous, just minus the booze element!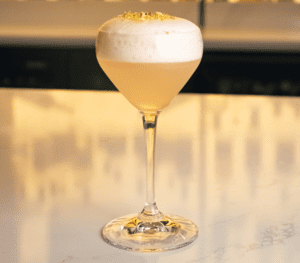 Some of the cocktail highlights include:
Elderflower and Camomile cocktail. Created with foraged Elderflower, turned into syrup and Camomile tea, garnished with upcycled Champagne Foam and dehydrated Camomile Flower powder.
Sake and Miso Martini. To minimise the waste, we use our in-house miso-infused Rapeseed Oil. It allows to transfer the umami flavour and create a cocktail that has a velvety texture
Carden Coffee Liqueur. Made with upcycled coffee grains.
Rosemary Garden. Made with Rosemary grown in our very own herb garden. Mixed with pink peppercorn syrup, and topped with cucumber tonic