It's finally that special time of the year that all UK foodies have been eagerly waiting for: the start of the British asparagus season! Our chefs are always excited to get their hands on these fresh, vibrant, and delicious spears. To celebrate this delightful season, Chef Graham Tinsley MBE has whipped up an easy and mouthwatering recipe for you to try. Experience a taste of Carden Park from the comfort of your home.
Grilled Asparagus with Lemon Herb Gremolata Recipe – It's simple, yet oh-so-delicious!
What you will need:
1 lb British asparagus, trimmed
1/4 cup olive oil, divided
Salt and pepper, to taste
Lemon Herb Gremolata:
Zest of 1 lemon
1/4 cup fresh parsley, finely chopped
1/4 cup fresh basil, finely chopped
2 cloves garlic, minced
1/4 tsp salt
1/8 tsp pepper
Firstly, preheat your grill to medium-high heat.
Toss the asparagus with 2 tablespoons of olive oil and season with salt and pepper.
Grill the asparagus for 5-7 minutes, turning occasionally, until tender and slightly charred.
While the asparagus is grilling, prepare the Lemon Herb Gremolata: In a small bowl, mix the lemon zest, parsley, basil, garlic, salt, and pepper. Drizzle in the remaining 2 tablespoons of olive oil and stir to combine.
Once the asparagus is cooked, place it on a serving platter and generously spoon the Lemon Herb Gremolata on top.
Serve immediately and enjoy the taste of the British season. It's time to fire up the grill and give these seasonal green beauties the love they deserve – happy asparagus season everyone!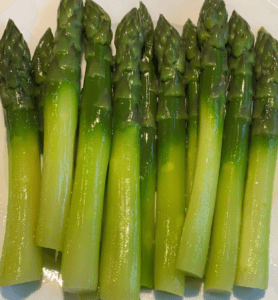 If you prefer to leave the cooking to the experts, you can experience Chef Graham Tinsley MBE's favourite seasonal dishes in our unique gourmet dining restaurant The Vines at Carden Park. Travelling from afar? We have a range of gourmet dining breaks available to suit all tastes.
View Our Dining Breaks