We have hundreds of unique individuals that contribute towards our award-winning team here at Carden. And it's a pleasure to get to know some of them a little more in our Meet The Team blog feature.
This week, we're speaking with Jack, who recently joined the Golf team…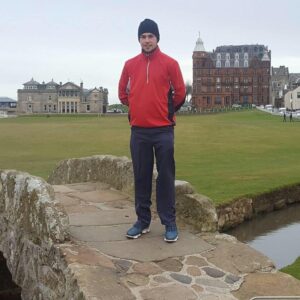 Hi Jack, welcome to #teamcarden! What is your job within the team?
Assistant PGA Professional, I have just finished my first year of the PGA awaiting my exam results.
How did you get into golf?
I first got into golf when I was 10, both my uncles play. Going down to the range a few nights a week hitting a golf ball as far as I could, was fun. I soon started group lessons and then individual lessons quickly followed. Captaining Denbighshire and North Wales was the highlight of my junior career.
Which golfers do you take inspiration from?
My favourite golfer is Rickie Fowler, his bright golf attire and time he spends signings autographs for children shows what type of person he is. I never saw Tiger Woods at his peak, seeing him compete now is exciting and great to watch. This just shows that you can come back from anything even when everyone writes you off. Ian Rowlands and Garry Houston are both professionals here at Carden and since joining I have picked their brains and how to get better.
Why did you choose Carden?
I was previously a member here for 5 years, winning Club Championships and Scratch Knockouts meaning that I knew a lot of the members and saw how the club operates. Spending 6 months at a different Golf Club which was also a hotel gave me an insight to how things are ran on both the golf and the hotel side. I believe this has helped me settle into Carden Park and allowed me to show how much I have learnt over a short period of time.
Which is your favourite course to play?
I enjoy both courses. Both are different in their own ways but if I had to choose one it would be the Nicklaus. Being able to play off the back tees and many holes having water hazards makes it the ultimate test. If you can play well around that course most other courses shouldn't be a problem.
Are you looking to take part in any upcoming events?
I have played in 5 events so far this season, finished Tied 6th at Helsby last week which was a great result and hope to keep improving. It's been a huge learning curve in my first year at the PGA but hope to keep on learning and improving as a player and a member of the team.
Any tips for any younger golfers?
Take as much advice off as many professionals as possible. Practice hard and play with players better than you to push yourself to become better. Try to travel as much as you can, whether that's playing golf or just exploring the world.