We're delighted to reveal that we've added brand new ChargePoint charging stations using cutting-edge technology that's rigorously tested to be safe and reliable.
By partnering with ChargePoint, we're able to provide our guests with 24/7 driver support as well as featuring on their cloud-based software that allows you to view all of the available ChargePoint stations throughout the UK – so you'll never be stuck!
Both the CP4100 and CP4300 (pictured below) offer three-phase AC charging and charge at a maximum rate of 22.2 kW per port, adding up to 140 km of RPH (range per hour).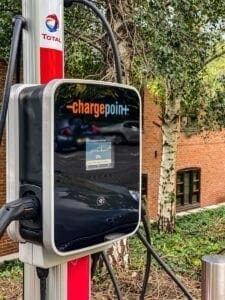 The LCD screen shows the car charging status with flexible payment options including pay for charging including RFID card, mobile app, calling customer support and contactless debit and credit cards.
Compatible with a huge range of vehicles including all of the following; tested with Mercedes C350e/GLC350e, Renault ZOE, Volvo XC90 T8, BMW i3, Nissan LEAF, Tesla Models S and X, Kia Soul, Hyundai Ioniq, Volkswagen Passat/Golf GTE and many more.
Adding new EV charge points to our resort is one of many actions taken by the team in the last decade to support our sustainability efforts. Other efforts in recent times include…
Adding low energy LED lighting with full integrated lighting control
Photovoltaic panels on our spa roof producing electricity
Solar thermal panels on the ground assisting the hot water generation for the external showers
Variable refrigerant flow air source heat pumps providing temperature conditioned air to specific areas