How does my pregnancy massage differ from a regular massage?
Our pregnancy spa treatments use purely natural products provided by Made For Life Organics. This eliminates any potential harmful aromatherapy oils that should be avoided during pregnancy. Our products also contain additional wellness benefits; with the Restorative Body Balm containing essential superfoods proven to prevent stretchmarks (available to purchase in the spa). Our products are 100% cruelty-free and made with sustainable practices as a priority.
Our therapists are fully-trained on the correct pressure points within the pregnancy treatment protocol and are Made For Life brand certified.
The Spa at Carden contains two specially designed pregnancy couches to relieve the pressure on you and bump during treatment. All additional treatment beds will have a V shape pillow provided on them to ensure your ultimate comfort too.
The treatments are designed to take you on a journey of deep relaxation and wellbeing. Many of our clients comment on our treatments capability to soothe restless legs and the specific pressure techniques are also amazing for fluid retention, improving circulation.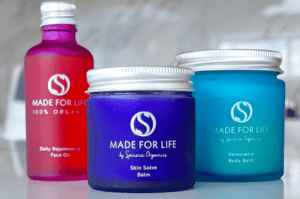 What facilities can I use in the Spa Garden while I am pregnant?
Although you are welcome to visit our spa garden there are restrictions we would advise in relation to the facilities you can use. During pregnancy you will need to avoid any heat based spa facilities such as our hot tubs, steam rooms, saunas etc. Our spa team will be on-hand throughout the day to advise you on any pregnancy considerations and to answer any questions you may have.
Despite the restrictions on heated facilities there are many other areas of the spa you can enjoy during your visit. If you are booking a pregnancy spa day you will be able to enjoy all three of our relaxation rooms:
Panoramic relaxation room – with a view of our spa garden
Deep relaxation room – dark and quiet ambience
Sensory relaxation room – to enlighten your mind
Please note we have robe sizes that can accommodate modesty no matter how big your bump may be growing!
Book Spa Garden

Image by @bethsandland
What pregnancy spa treatments can I book?
Introducing our Pregnancy Nurturing Massage – Face and Body Treatment.
Our most popular treatment is designed specifically for you and your baby. The treatment includes a nurturing back of body massage ideal for mother's at all stages of their pregnancy. Our therapists will begin with a smooth massage using techniques to alleviate any tension within your body that you might have. Following your massage you will receive a calming facial that boosts natural rejuvenation allowing your to destress and truly relax.
Your treatment will last approximately 90 minutes.
Please note: dual rooms are available upon request and can be used alongside our regular treatments. Treatment rooms are also all accessible via lift if required.
Book Treatment
Soothing Foot Ritual Perfect To Soothe Aching Pregnant Feet
Your spa treatment will start with a relaxing foot soak, followed by a refreshing cleanse and exfoliation process. You will then receive a deeply relaxing core pressure point foot massage to ease any aches. Finally chose between an array of colours to spruce up your toenails to extend beyond your treatment.
Your treatment will last approximately 50 minutes.
Book Treatment
What can I buy as a pregnancy gift?
If you are struggling to decide on a gift to congratulate the new mum-to-be or maybe you just think they deserve a surprise pamper, our luxury spa gift vouchers will always be well received! Let's face it, pregnancy is an exciting but also a stressful time, so a pregnancy spa day could be the perfect treat for some well earned relaxation.
Buy Gift Voucher