The Vines at Carden Park is an exemplary venue for seasonally curated fine dining. We are happy to announce we are now able to offer an intimate hosting venue for private events and group experiences.
Inspired by the three-acre vineyard you can find within our Cheshire grounds, the Vines Restaurant is a space that offers the perfect combination of elegance and sophistication. The atmosphere is relaxed but refined and the service always promises to be impeccable.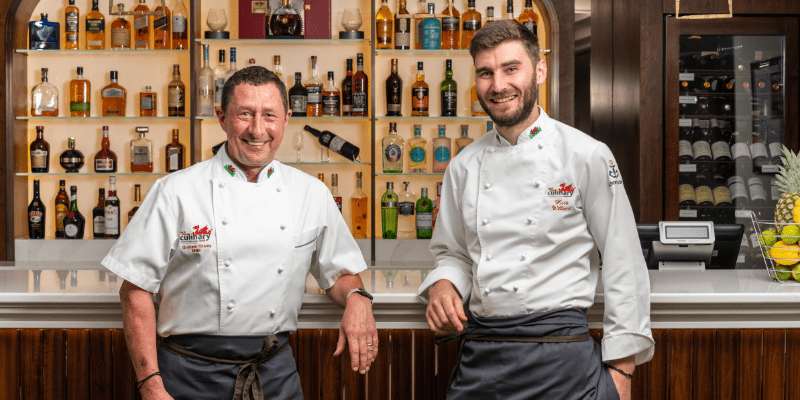 What's included with the private dining package?
Your private gourmet experience will be led by Executive Chef Graham Tinsley MBE, a former Royal Chef and his exceptionally talented team. They will work with you personally to cultivate a menu bespoke to the event; considering personal taste, local produce and seasonal delights. Our dishes are always catered to the highest standards.
You can choose from a classically formulated delicious three-course à la carte menu or explore an array of dishes through a tailor-made tasting menu. Both of these will awaken your taste buds to new flavour combinations that will leave an unforgettable memory for you and your guests.
Your guests will receive an arrival cocktail to begin your evening in Goldies Lounge. We are then able to enhance your experience by collaborating with our experienced in-house sommelier, who can create an incredible wine list to complement your dishes or cocktails should you prefer (price on asking). You can view our sample drinks menu here.
As the venue is intimate in nature we are able to accommodate from 30 up to 50 guests for private use. Our menu creation can also comfortably cater for specific dietary considerations.

Expert Art & Sculpture Talk Available
For something a little different; our on-site art sales advisor or art curator Grant Ford (as featured on The Antiques Roadshow) are able to offer a personal talk about the extensive collection of artwork on display throughout the hotel and grounds as part of your evening. Including our impeccably curated Sculpture Garden, featuring notable works from Tessa Cambell-Fraser, Masoud Akhavanjam, Halima Cassell and many more.

Whatever the occasion to celebrate; impressive corporate hosting, reward and recognition, or memorable birthdays to name just a few, we are confident your private fine dining experience will be a resounding success. 

Our prices begin at an introductory rate of £3,500 for the private dining experience in The Vines Restaurant*. 
*T&Cs apply. This package is subject to availability, limited to selected dates and is not bookable online. The price of £3,500 is based on the minimum guest number of 30 people.
Our team would be happy to discuss your requirements in more detail. Please call 01829 731555 or enter your details below and we will be in touch promptly.