Our spa therapist team are experts in providing relaxing experiences and indulgent spa breaks with treatments so that our guests leave feeling renewed and pampered. We sat down with our Senior Spa Therapist, Paula Norwood, who has recently been crowned the Oskia Therapist of the Year 2023 to talk about her incredible award win and why she loves working at The Spa at Carden.
Can you tell us about the Oskia Therapist of the Year award?
Oskia announced they were running the competition and my managers nominated me as a therapist to represent The Spa at Carde. The criteria for nominations were based on a number of points including retail sales and customer feedback. There were a lot of therapists from different spas across the UK that were nominated. Back in December 2022, I took part in an interview with Oskia that was about an hour long. They asked me a lot of different questions such as "what makes a 5-star spa experience" and "how do I ensure my clients go away happy". It was quite a tough process.
What does winning this Oskia spa award mean to you?
It's massive! I was honestly really flattered to be put forward for it but I never thought in a million years I'd win. I was up against a lot of other amazing therapists from across the UK and I'm relatively new to the industry so I genuinely didn't expect it. It makes me so happy to have won because it's validation that I am doing a really good job.
This is an Oskia award, so what is your favourite Oskia beauty product?
Definitely the Rennaissance Mask. It's a product that has multiple uses and it really brightens the skin. My background is in beauty therapy so I like seeing instant results and you get that WOW factor straight away using this product. It's a dramatic difference to the skin before and after use. It also feels luxurious and you feel like you're having a lovely pamper. We use this a lot in our spa treatments at Carden.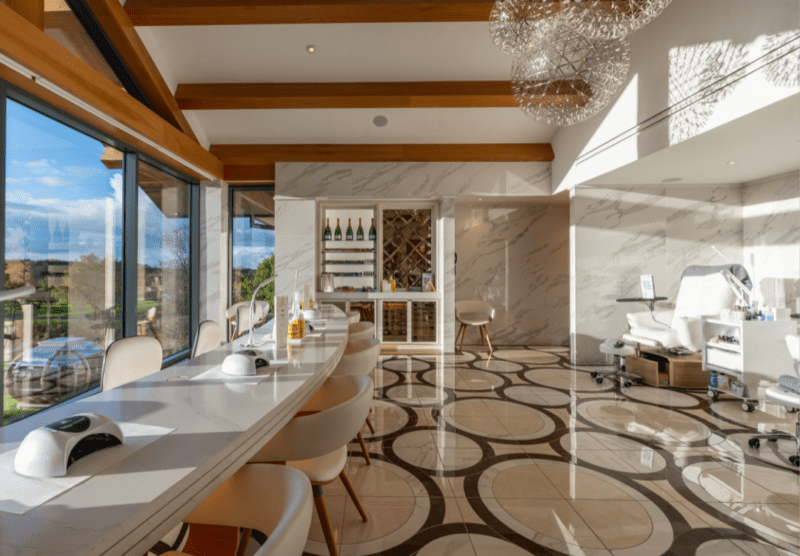 You mentioned your background is in beauty therapy. Can you tell us a bit about how you got into the spa industry and the qualifications you have?
I actually came into the industry quite late in life, I think some of the therapists here at Carden Park came straight from college. I worked abroad for a long time on private yachts and when I came back home I didn't really know what I wanted to do. I set up my own beauty business in the evenings and did lots of individual training such as nails, lashes, and eyebrows. Later I decided I wanted to work in a spa. Carden Park is one of the best spas around and I was very lucky that I was able to study alongside working here. I now also have a level 3 in massage therapy and electrical facials.
What was it about Carden Park that made you want to work here?
It's the only 5-star spa in the area and the treatments are so much more specialised than anywhere else. I wanted to head for the best and I think that's what everyone should do. They should aim for the top.
What do you love most about your beauty therapist role?
I'm very lucky that I recently got promoted to a Senior Therapist and one of the big things for me is making sure all of the other therapists love their day. I always want them to feel they've got somebody on hand to help them with any questions about the treatments or the products that we use and be informed on how they can give the best service to the client. I love being able to give my knowledge to other therapists and see their confidence be boosted. It's also so nice to get up each day and think "I love coming to work"
What advice would you give to newly qualified therapists?
The first couple of months can be difficult learning all of the different routines and it's a fast-paced industry. My advice would be to stick at it, it's so rewarding. Get in with a good team that has good support behind it and you'll learn so much.
How can beauty therapists set themselves apart and give customers a 5-star experience?
My advice to the therapists that start here is, even though you have multiple clients a day, make each client feel special. From the moment you meet them for their spa treatment to the moment you say goodbye, they should feel like they're your first client of the day and the most important person.
If you want to experience Paula and her team's spa treatments we offer several spa day packages for you to enjoy.
View Spa Experiences Here