Who doesn't love a summer wedding?! At Carden Park, we endeavour to make a million marvellous memories for the happy couple and their friends and family with our beautiful location, spacious venues, the enthusiasm of #TeamCarden and much much more.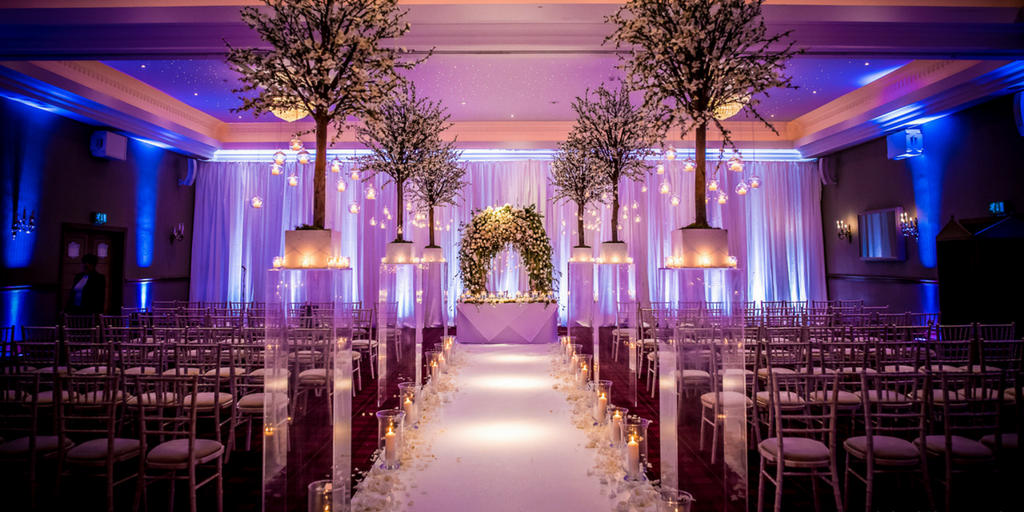 Take a read of our 20 top tips for that extra special and successful summer wedding.
Wonderful Wedding Gazebos
The perfect place to take your forever vows and a celebration of all things summer, a wedding gazebo is the ultimate way to embrace the splendour of your natural surroundings and create that beautiful and intimate atmosphere with friends, family and most importantly, the one you love.
At Cheshire's Country Estate, we can't think of anything better than our wonderful wedding gazebo with unrivalled views of the charming Cheshire countryside and and neither can hundreds of lucky couples.
Magnificent Marquees
Sensationally spacious and super sophisticated, a wedding marquee is an alternative choice to a gazebo, yet still holds many of the same benefits, such as embracing the wondrous views that surround you and bringing the outdoors indoors. Furthermore, due to its vast, open size, you may also be allowed to invite even more guests to your evening soiree. Just don't tell them they didn't make the cut the first time around…
Summer Styles
Your wedding is a blank canvas. You can create it to your hearts content. Think about choosing vibrant, colourful bridesmaids dresses and groomsmen suits that fit the hot, summer season. Jazz up your wedding too. Remember it's a celebration! Wear fun filled sunglasses, flower garlands and boutonnieres. It's your day in the sun. Make it memorable!
Marvellous Musicians
It's the age old question. Rock band or DJ? If you're split on this decision, why not do a mix of the two throughout the evening and eventually satisfying both urges?, or alternatively how about making your special day even more memorable with a romantic string quartet or an opera singer. Is this particular idea music to your ears?

Fantastic Food
A fundamental part of proceedings, it's important to pick the right food for your day in paradise. If you're having an outside ceremony, can you imagine tucking into novelty ideas like a BBQ or a hog roast as you bask in the sensational British sunshine?
At Carden Park, we can offer the lucky couple a 3 course bespoke wedding breakfast, a variety of canapes and a plethora of options for your evening reception buffet with our Summer Sparkle & Winter Wonderland Late Availability Package.
Celebratory Cocktails
Summer cocktails are a must at your wedding. The difficult choice is which ones do you serve? Think about serving a selection of alcoholic and non-alcoholic cocktails during the reception like mojitos, pimms and mimosas. As the evening progresses, why not cater for those desiring an espresso martini or a whisky sour? Is it cocktail o clock for you yet?
Fabulous Flowers
The centrepiece to a wedding and the subject of gossip for many a guest, the flowers you have at your ceremony need to be looking fresh, colourful and fashionably in season. Are you in the mood for yellow sunflowers, pink peonies or purple lilacs? And what will match perfectly with your choice of dress and venue? It's important you think long and hard in getting this big decision right…Just don't forget to throw your beautiful bouquet and start planning another wedding.
Sensational Seating
Choose seats that are high on comfort and look fantastic. Whatever the style of your wedding, stand out of the crowd by introducing bales of hay, log planks or beach style deckchairs to encapsulate that summer theme. If this isn't your thing and you want to stay traditional, why not brighten up proceedings with coloured ribbons, decorative cushions and pretty flowers.

Perfect Pick & Mix
For anybody with a sweet tooth, this next idea is a must-have. The ultimate throwback to your childhood, a pick and mix cart will arguably be the most popular event at your wedding. Treat friends and family, young and old to this novelty idea and thy'll be talking about your day for years to come. Will you be keeping your guests sweet today?
Lavish Lighting
Whether you're using lanterns, fairy lights or old fashioned candles to light up your wedding, make sure you strive to brighten your perfect day even further. Our personal favourite during the ceremony is entwining fairy lights from the ceiling beams to show your way to the dance floor. Afterwards why not keep that brightness shining even though it's evening with sophisticated candles or with illuminating colour washed reception walls.?
Indulgent Ice Cream
Similarly to a pick and mix cart, this will be one of the popular points at your wonderful wedding. Not only will the bike or cart look smart and sophisticated but it will help cool down your guests over the summer season with an array of delicious frozen flavours and toppings. For the closest thing to delirium, watch your friend's and family's faces when they see this particular attraction for the first time…
Great Garden Games
2017 is all about bringing things from yesteryear back into fashion. None more so than traditional favourite past times like chess, connect 4 and croquet. A current fashionable choice, why not let your guests battle competitively with each other and talk about their matches for days to come? It's all about the fun and games..just as long as these dynamic duels don't end up ruining your big day.

Captivating Cakes
With present day comes the need not to have a traditional white wedding cake any more. Although we love the look of it in all its grandeur, how about thinking about a different style of cake to celebrate your big day? Something that tickles your fancy, surprises your guests and encapsulates your special occasion.. With this in mind, how about you look out for a rustic and full of flavour naked chocolate or vanilla cake? If you're not the biggest cake fans, try a cheeseboard or a meat or vegetable platter. It's your big day. Go unique, memorable and make it your own!
Precious Programmes
When explaining the order of service of the day and introducing the key members of the day, make your wedding programme look unique and unforgettable and cater for your tastes. Known for your music and film knowledge? Why not set out the programme in a movie script or a note sheet? Or how about making the day's delights more playful and writing the programme on a chalkboard for everyone to see?
Terrific Tables
Showing people to their tables is an important job, as most will be hungry and feeling the effects of casual daytime drinking. Jazz up each table with little wedding favours and decorations. Make sure you've thought about each guest, as they will have thought about you when purchasing a present. If you're feeling extra mischievous, set out enjoyable anagrams or riddles to direct people to their seats. Watch the fun unfold from the main table…
Blissful Bug Sprays
Outdoor weddings are always slightly ruined by one thing, the insects that fly around and make a naughty nuisance of themselves. Think about you and your guests health and general sanity by providing individual bug sprays and making sure that your big day isn't spoilt. Your guests will especially love this selfless thought in the height of summer…

Thrilling Transport
However you choose to enter or leave the venue, do it in style. Choose a classic car, a horse drawn carriage or even an open top bus to stamp your own personal mark on the days proceedings. Love golf? Why not arrive in your very own personally decorated golf buggy?
At Carden Park, we offer a complimentary Bentley Buggy to celebrate your wedding in the coolest way possible. Cue jealous glances…
Momentous Memories
Have precious memories of the best day of your life with a designated photographer taking professional shots of the day, from the reception straight through to your best moves on the dance-floor. Get even more images with an in-demand photo booth that strongly encourages fancy dress and provides in abundance those funny moments that you won't be able to get out of your head.
Thoughtful Thankyou Gifts
Thank your guests for attending your special day with personal and precious gifts. Supply them with party bags that include novelty gifts like miniature alcohol bottles, tiny boxes of chocolates, fridge magnets, photo frames or friendship bracelets. These great gifts will always remind them of the perfect day that they spent with you..
Think Carden Park…
We are the number 1 venue in Cheshire for magical weddings and it's difficult not to see why. With the perfect summer backdrop of 1000 acres of country estate awaiting you and your loved one, now's the time to book your perfect day.
Why not see what we're all about by attending our special Evening On The Lawn event on the 31st August between 5 and 8pm? The ideal time to ignite your wedding fever…
Memorable moments at Cheshire's Country Estate!