This is our official press announcement for our new aerial adventure course, 'Vertigo at Carden'.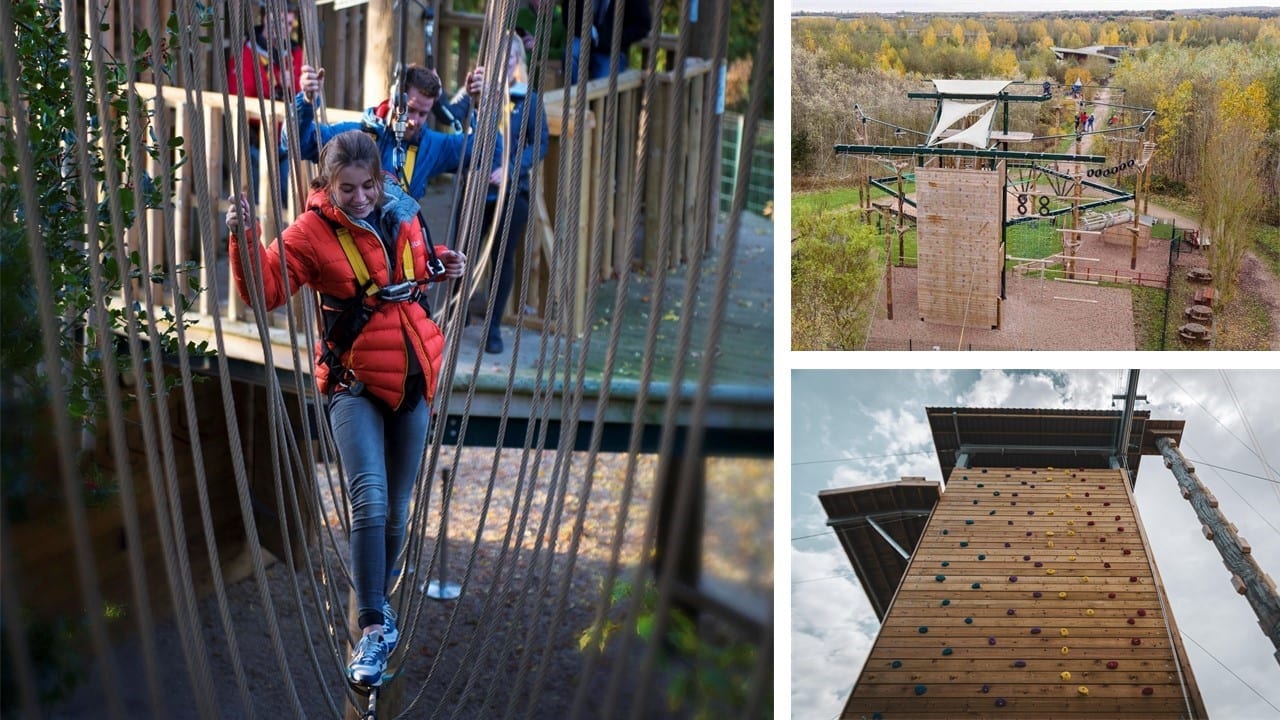 Images courtesy of JM Adventure.
Behold The Cheshire Countryside From Dizzying Heights With The New Aerial Trek Course, Vertigo at Carden
Multiple lockdowns in the UK have meant a rollercoaster year amidst the Covid-19 pandemic for those in the hospitality industry. But few properties have continued to invest as much as the 1000-acre leisure resort in Cheshire over the past 12 months. Committed to providing award-winning activities for its guests, privately owned Carden Park Hotel has announced the latest addition to its facilities, a brand-new Aerial Trek, Vertigo at Carden. This pulse-racing high ropes adventure course will offer a new perspective over the Cheshire countryside. It will be ready for guests of the hotel – as well as day visitors – to enjoy when the estate fully reopens on 17th May.
The £350,000 standalone structure has been created and designed by JM Adventure. They are known for their bespoke designs and impeccable safety. The team is responsible for several successful projects across the UK.
What to expect
Vertigo at Carden offers two terrifying levels of white-knuckle adventure for all abilities. Both courses take guests on a two-hour experience, with the promise of 10 mid-air obstacles for every guest to conquer. The longer and more difficult course high up on level two ends at the top of a ten-metre tower. This is where true bravery is tested as guests launch themselves onto a giant stunt pillow. There's also the option to return to ground level via an exhilarating dual 210m zip line.
For those looking for a more traditional course, rock climbing is also available in half-hour slots. Those bold enough to scale to the top are sure to forget their fears as they are rewarded with never-before-seen views over the Carden Park Estate aross the on-site Vineyard, luxury Spa Garden and Golf courses.
A session at the Vertigo at Carden high ropes course includes a thirty-minute safety briefing. This includes guests being kitted up by trained professionals before entering the course. Fully qualified instructors are also on hand at all times and a hot or soft drink is included in the package. Guests must be aged 6 or over and height and weight restrictions apply.
Team building options will also be available for companies looking to bring staff together for a memorable experience. Especially after months spent working from home!
Director & General Manager, Hamish Ferguson says;
"We've worked hard throughout lockdown to invest in our facilities to ensure even our most loyal visitors have something completely new to come back to. Vertigo at Carden is perfect for our adventurous guests and the high ropes course adds a whole new experience to our already world-class leisure offering."
James Mittins is the Managing Director of JM Adventure adds;
"This course is the first of its kind that we have built in Cheshire and has been specifically designed to meet the needs of Carden Park, with a range of different activities built into it. It has two levels of high ropes trekking, climbing and team building activities. The real showstopper for us is the airbag jump, it's a massive thrill and a real rush." James has over 20 years of ropes course building experience and has been working on site to build the course at Carden Park.
Prices for Vertigo start at £40pp and gift vouchers are available to purchase now at https://cardenpark.wearegifted.co.uk/vertigo-aerial-trek-adult
Minimum age 6 years old, you need to be aged 14 and over to use the 10m free-fall.