Located just 20 minutes away from Carden Park, you'll discover an award winning forest of family fun and outdoor adventure.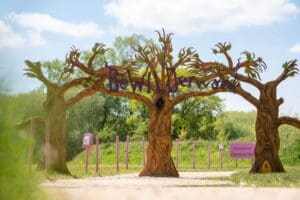 Who can visit?
The ideal age range for children is 2 – 12 years old, however as it's a family-friendly forest, this means it's perfect for adults to enjoy too. They have a dedicated enclosed area called 'Toddlewood' for the 'teeny ones' who may not want to venture onto the bigger play equipment. You'll also need to be at least 92cm to go down any big slides. To use the Wobbly Wires, you need to be at least 105cm.
How long do you spend at BeWILDerwood?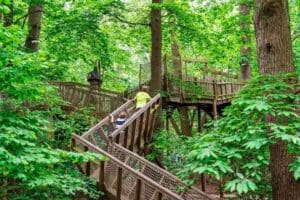 The BeWILDerwood team recommends at least 3.5 hours, however, they say a spending longer there is the best way to make the most of everything on offer! For an adventure-filled day, you could pay a visit to our aerial adventure course, Vertigo at Carden in the morning and then take a short drive to the BeWILDerwood forest.
What is there to do?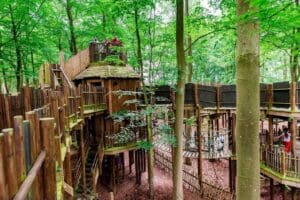 From Slippery Slopes to Wobbly Wires and Broken Bridges you'll find yourself with plenty to do at BeWILDerwood. This treetop adventure has zip wires, slides, a craft area, storytelling and much more. Click here to view all activities on offer.
How can I book?
Day tickets and gift vouchers are available to purchase online. You can find them here. Prebooking is essential to avoid disappointment.