This week, it's National Spa Week and what better way to celebrate than with a pampering treatment at the award winning Carden spa.

At Cheshire's Country Estate, we use ESPA, a highly popular range of products that are designed to give your skin, muscles and entire body that replenishing and relaxing feel.
We caught up with Carly Pattenden, a newly qualified ESPA trainer who has already gained valuable experience in working at Carden spa previously, to tell us all about her new role.

Hi Carly. How does it feel being back at Carden Park?
"It feels great. I'm happy to be back in such a warm, homely environment and I can't wait to start helping everybody be the best spa therapists they can be with ESPA's fantastic new products and methods".
Tell us about your ESPA training. When was it and what did it entail?
"It was very intense but so enjoyable. I wouldn't have changed it for the world. It was from the 21st to the 25th of August at ESPA headquarters which were amazing. I met some great people and we learned lots of different treatments and practiced them by performing them on each other. We all ended up with a certificate afterwards which I'm very proud of. It has already taken pride of place in my house!"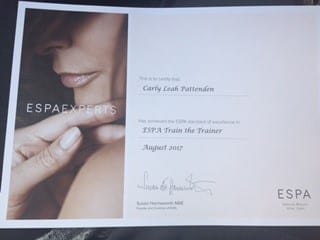 So what will your new role at Carden include?
"I will be striving to get the girls at the spa to reach the high standards targeted by ESPA. I had my first training session last week with four of them and already I'm starting to see the improvements in learning a new holistic body and mind routine which is totally different to what they've been taught in college. We will also be learning all the ESPA products in great depth and why we should pick each one for a specific person. Finally, I'm aiming to improve sales and really want the treatment rooms to have that wow factor for guests".
What is your favourite treatment that we do at Carden spa and why?
"Well…currently I'm training the girls in Inner Calm Full Body Massage, Intensive Facials, Salt and Oil Scrubs and Back Face and Scalp Treatments but I have to say that my favourite is the Blissful Trio. It's pure luxury that leaves you feeling relaxed and includes not just work on your back but also provides you with a personalised facial and scalp massage. It's skin vision in depth for 85 minutes and our clients always feel great afterwards".

As we move into November and the cold weather starts to descend on the UK, there's no better time for an indulgent spa experience. Why not take advantage of our Autumn Spa Days, including Spa Cream Tea or Lite Bite Lunch from £59 per person?