Germaine De Capuccini is a luxury skincare brand with a rich 60-year history of innovation in the spa and beauty industry. Their product lines feature multi-award-winning solutions that address most skin concerns effectively using exclusive formulas unique to the brand. The Spa at Carden is a proud collaborator with Germain De Capuccini, with their skincare range featuring prominently within our luxury spa treatments, as well as being available within our retail offering.
Germaine De Capuccini Product Launch Event
Carden Park was pleased to welcome the team at Germaine De Capuccini to host their most recent, and highly anticipated product launch event. The morning saw insightful talks from Clare Dickens (the MD of the UK Subsidiary of Germaine De Capuccini) Maruica Moala (Marketing Manager) and Angels Pons (Global Communications Manager). They shared in-depth product insight from their current lines and introduced their newly developed 'Timeexpert Hydraluronic' and 'Pomegranate' collections.
Germaine De Capuccini's global brand ambassador Eugenia Silva (luxury brand model) attended the event, where she explained how the evolution of the product formulation remains close to her heart. She believes that the scent of the products 'feels like home' to apply. Eugenia talked in-depth about how the products align with Carden Park's own hotel sustainability values. Germaine De Capuccini has an 'ocean respect' policy which ensures that their output is safe for everyone. Not only being meticulous about the safety of the products on the skin for all skin types, but their considerations also run right through to their incredible policies in relation to the brand's footprint within oceans and on the planet.
The guest list included press and radio, alongside several fashion, beauty and travel influencers. As well as trade attendance from the UK Spa Association, British Beauty Council and Professional Beauty. All representatives were able to try the new Germaine De Capuccini collections during sample treatments as well as enjoy our beautiful Cheshire Spa Garden.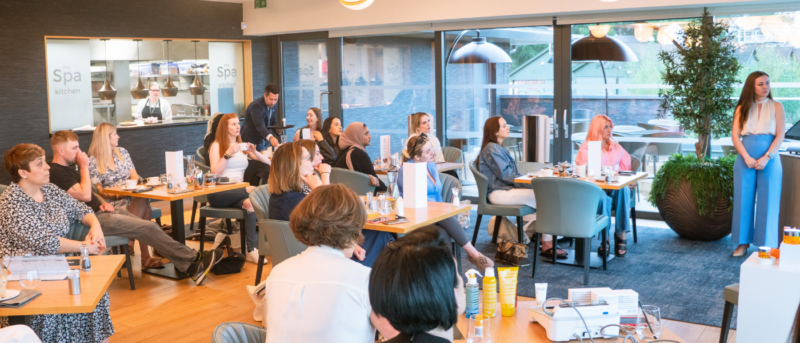 Germaine De Capuccini Timeexpert Hydraluronic Collection
The Timeexpert Hydraluronic skincare range focuses on providing a new dimension of hydration to your skin. As well as stimulating vital detoxifications and improving suppleness. The patented HGL Nanonpolymer ingredient acts as a vehicle to transport the nourishing ingredients deep into the skin, which is clinically proven to multiply the effectiveness of the hydration by six times. The hyaluronic acid then acts as a natural barrier to help the skin protect itself and visibly reduces imperfections.
Experience the Timeexpert Hydraluronic skincare range with The Spa at Carden's Signature Facial Treatment. Aimed to reduce blemishes and puffiness, improve circulation and leave you with a fresh dewy finish. This 75-minute luxury facial includes:
Skin consultation to establish what you'd like to achieve

Welcome comforting foot cleanse

Guided inhalations with a choice of relaxing or uplifting oil

Application of warm pinders across the body to release negative energy

Kirei cleanse, tone and exfoliation with warm mitt buffer

A combination of serum and oleo gel worked into the skin through stimulating movements

Strategic manoeuvres with a specialist cooled aqua massage tool aimed to lift, firm and tighten

Vital daycare with 3D force and sorbet

Neck stretches and foot pull

A spritz of Germaine De Capuccini Pleasure & Calm well-being spray
Book our signature facial
Germaine De Capuccini Pomegranate Collection
The new collection will be released imminently, containing both pomegranate oil and extract. This range is rich in nature's best antioxidants. This is a skincare experience that has been described as 'otherworldly'. The pomegranate collection has a delicate sweet fragrance combining the essences of strawberry, musk and of course pomegranate. Rich in vitamins C, A, and E you will benefit from active cell renewal, encouraging the production of collagen and elastin, as well as overall soothing nourishment.
Experience the pomegranate skincare range with The Spa at Carden's upcoming treatment which is scheduled to launch in line with Germaine De Capuccini's new pomegranate collection. This 105-minute luxury treatment will include:
Relaxing back massage with Onyx stones

Body exfoliation with warm mitts

Indulgent facial

More details are to be confirmed very soon!
Our spa therapists are trained to tailor your treatments to your specific needs. If they believe your skin will benefit from the new Germaine De Capuccini Pomegranate or Timeexpert Hydraluronic collection, they may adapt our other treatments to include them. If you have a preference to try either skincare range please let our team know and they will try to accommodate.
View our spa days