The Spa at Carden has launched its very own spa product range. You can now take a slice of paradise home after enjoying one of our many spa experiences. The products would work perfectly as a well-being gift, and are available to purchase in the retail section of our spa.
When developing the spa products we wanted to align them with our hotel's sustainable values. With this in mind, we selected a partner to develop the products that shared our same passion for the environment; Natural Spa Factory. They offered a vegan, cruelty-free SLS and paraben-free product option to bring this project to fruition. Elements that our customers hold to utmost importance too. The new spa products can be found across the hotel, in our washroom facilities and changing rooms. They have allowed us to drastically cut back on our plastic consumption as a business while still providing premium amenities for our customers.
The branding is instantly recognisable as a Carden Park product, with the understated signature swans found on the bottle. The in-house product offering available includes:
Spa body wash

Spa shampoo

Spa conditioner

Spa hand wash

Spa hand cream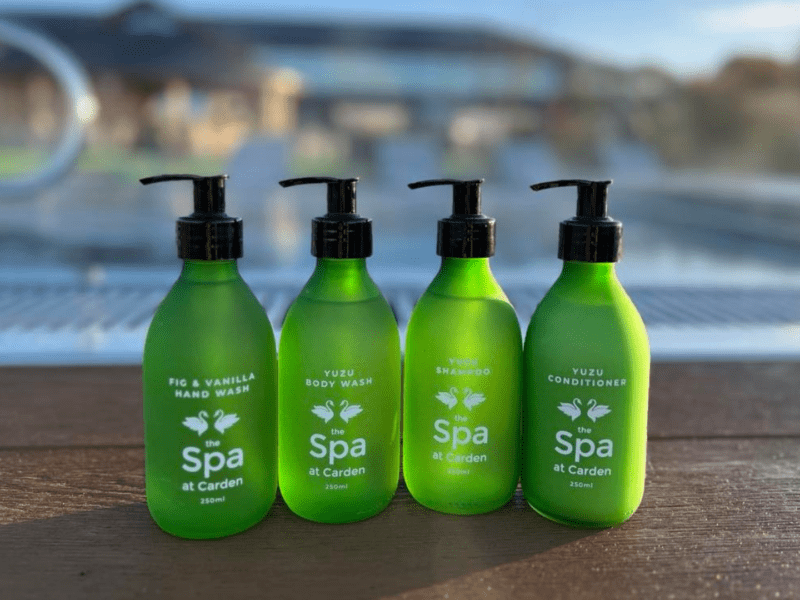 The spa products are inspired by the Japanese custom of hot yuzuyu bathing with whole yuzu fruits. The custom is said not to only benefit from a soothing aromatic scent but it is believed to have medicinal benefits such as anti-inflammatory properties. The spa products also combine ingredients such as sparkling grapefruit, patchouli leaf oil, mandarin and knotted marjoram to create a calming and uplifting aroma to please the senses.
The Spa at Carden products has a luxurious feel that is gentle for the skin. They are oozing with natural ingredients that eliminate impurities, soothe, cleanse, and moisturise. As well as encouraging improved circulation.
We are also excited to have launched our spa diffuser which mirrors the middle eastern warm scent found in the Carden Park Spa treatment rooms. The oud diffuser features sweet woody notes with a smokey undertone. The core component is derived from the tropical agar tree, and is one of the most expensive raw ingredients found in India. Further adding to the exclusivity of the spa products.
Emma Pridding, spa director at Carden Park says: "We are so proud to have worked with the Natural Spa Factory on delivering this quality in-house product range for our customers. We wanted to provide a way for visitors to continue their spa experience in other areas of the estate, as well as at home, and with this range, they can take those calming and grounding feelings with them wherever they go."
We believe this is a truly unique opportunity to bring a touch of our award-winning spa home with you to enjoy in-between spa weekends.
If you have any suggestions about how Carden Park could improve sustainable practices, we are always happy to receive feedback and ideas. Please fill out the form below with your thoughts: