On the 30th October, The Hair Room, a beautiful salon ran by owner Rebecca Croft opened its doors to the general public at Carden Park. Offering a bespoke, personal and modern service to clients as well as ensuring a great new look and feel you desire, it is certainly a welcome addition to the hotel family!

Rebecca is extremely excited about the opportunity of working inside Cheshire's Country Estate and can't wait to get started with her new venture.
"It's such a beautiful place inside and out. I already feel part of the family here. Everybody is being friendly, supportive and making me feel welcome and settled in. I honestly don't feel like I'm on my own at all!"
Hairdressing has always been at the forefront of Rebecca's mind, ever since she was young and she has followed all her childhood aspirations of being a world class hairdresser.
"I first got interested in cutting hair as a school girl in the early 2000's. I had a Saturday job with my auntie in a local backstreet salon when I was 13, where it cost me my daily wages to get the bus and I've never looked back. I served my apprentice and qualifications in a reputable and established salon and training academy. Along the way, I learnt all about ambition, creativity, passion, trust and flare alongside techniques and knowledge; all key attributes needed to be a top class hairdresser and I'm so excited to share all this experience with my clients. Now The Hair Room adventure begins and I can't wait!"

As well as providing efficiency in styling, from men's cutting and bouncy blow-drys to making a bride looking the best she can for her big day, Rebecca has had many memorable moments in her hairdressing career so far.
"When I finished my training, I got invited to a formal awards ceremony in London as part of the 365 Salon where we were recognised nationally for our special training techniques. It was such a fantastic evening! It was like the Oscars and I was so humbled when everyone in the room were cheering and clapping us. Another great memory was winning a hairdressing competition in 2009. In the near future, I would love to enter The Hair Room into competitions, as my business that I've nurtured being up in lights would be a dream for me."

Rebecca would love to replicate these memories at Carden Park, a hotel that has already got a place in her heart.
"I think in particular their events team is fabulous. I look out my window every day and there's something different happening. They had a wedding straight after a business event in The Carden Suite last week and the transformation was unbelievable. It was mesmerising! I ask myself each morning; What are they going to do next?! I see it as my aim to match amazing feats like this. That's why The Hair Room will accommodate not just guests staying over but also non guests, so that they can come and enjoy the splendour of the hotel all for themselves."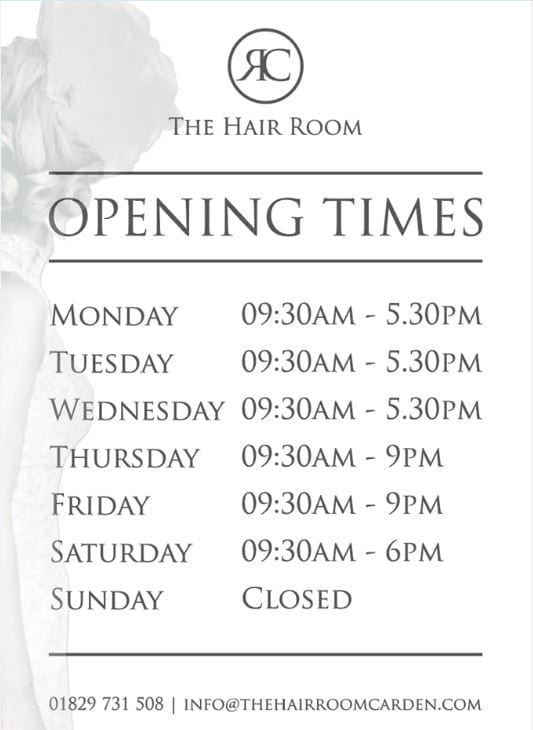 And what does the future hold for The Hair Room?
"Ideally, I would like to get a little team going here. I would like to give something back to the hairdressing world and providing hands on service and training to young boys and girls and give them a chance to do something that they love would be a good start. I'm also forever looking at improvements I can do too, whether it involves keeping up to date with the latest fashion trends or finding better products and techniques. There's never a dull day in my life.. And that's even before Christmas has started!"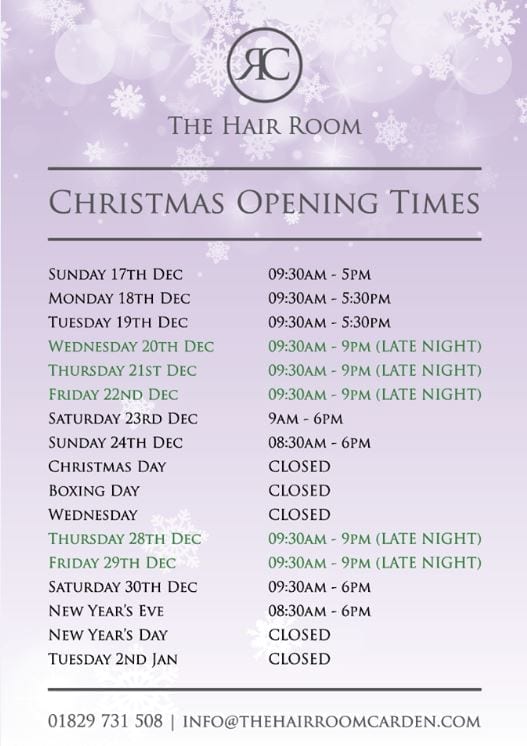 Why not combine your stylish new haircut from The Hair Room with a look at our stunning wedding venue when you register for our next Wedding Open Evening on December 7th.