Introducing our new luxurious lounge space coming soon to Carden Park. The new lounge will be situated opposite our gourmet dining restaurant, The Vines.
The brand new space has been transformed over the past several months and is due to open later this year, providing an additional option for those wanting an indulgent afternoon tea, pre-dinner cocktails, a light lunch and much more.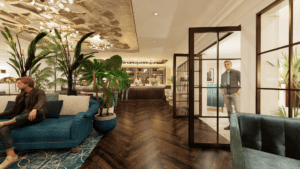 Jason West, director of WDC Creative, the studio responsible for the design of the new lounge, described it as having a 'modern-classic style'. All of the features in this reimagined area have been carefully selected to create an inspired and refined lounge space. Several design elements are bespoke such as the magnificent Wilton Carpet, both designed and made in Britain, which has been a key focus of this project – ensuring high quality, British-made items are sourced where possible. Other bespoke items include the hand-painted, golden coffers which can be seen in the CGI below, creating a beautiful conversational feature on the ceiling.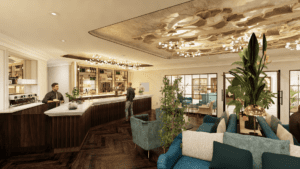 The large, Crittall style windows and doors create a bright and open atmosphere bringing in natural light and leading out to the canopy-covered veranda.
The official opening date will be announced later on in the year, keep an eye on our social media channels for further updates. View more CGI's below.