Who is Lilia Orlova-Holmes?
Lilia Orlova-Holmes is a best-selling globally recognised artist who now resides in the UK. Focused on natural objects her contemporary artwork encompasses waves of colouristic boldness with pretty floral arrangements and garden scapes. Her work draws inspiration from Claude Monet and Henri Matisse.
Where can I view Lilia Orlova-Holmes' artwork?
Carden Park is proud to be the home for Lilia Orlova-Holmes' 'Expression of Colour' Exhibition. You can find 20 of her paintings in the hotel; where you can view them for free at your leisure. The collection is curated by well-renowned Grant Ford from Winsor Birch. A sample of the artwork on display here in Cheshire at Carden Park can be found below:
Dance Me, 2023 Lilia Orlova-Holmes

Purple Anemones, 2022 Lilia Orlova-Holmes

Lily Pond, 2022 Lilia Orlova-Holmes

Evening Reflections, 2022 Lilia Orlova-Holmes

Vase of tulips, 2022 Lilia Orlova-Holmes
All of Lilia-Orlova Holmes' oil paintings are available to purchase directly from Winsor Birch where you will find a representative located within the Carden Park hotel.
What is Lilia Orlova-Holmes' artwork style?
Using bright colours combined with a delicate touch and a wave of blushing tones to bring her nature-inspired paintings to life. Lilia Orlova-Holmes uses loose brushwork in her oil paintings to express emotion in her subject. Although they are rooted in figuration they are oozing with emotion sparked from her own exploration of deeper meaning.
She has created a distinct Japanese calligraphic style that fills the room with dreamy romance. Her work has a strong appeal to a classic palette while being delightfully fresh, celebrating both the pleasure of painting and nature.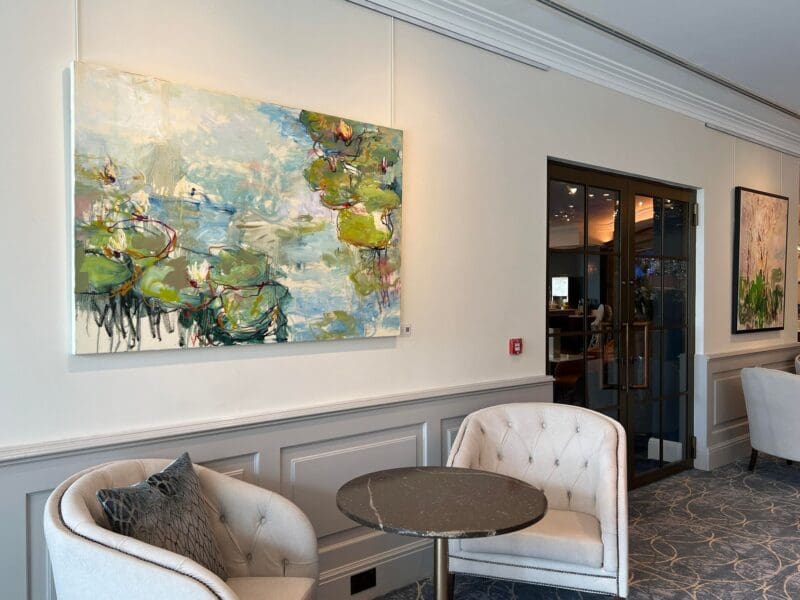 "I am delighted to introduce 'Expressions of Colour' at Carden Park, featuring an abundance of original floral works by the talented Lilia Orlova-Holmes. Refreshing, vibrant and playful, this body of work brings still subjects to life. Executed by Orlova-Holmes's clever use of gestural marks on the canvas, allowing the viewer to depict placement and where a line or brush stroke may lead to.
Over twenty unique paintings can be found throughout Carden, varying scale, colour and style. A personal favourite is titled 'Lily Pond', illustrating exactly as stated in its title. Exaggerated scribbles, layered with shades of green fill the canvas, juxtaposed with glimpses of soft pink nymphaea." Luke Carr – Fine Art Advisor
Lilia Orlova-Holmes Works range from £800 to £8,000 as well as a small selection of limited-edition prints will be available to purchase upon visiting the exhibition
To discuss this exhibition further you can contact our Fine Art Advisor Luke directly via [email protected] or 07939870337.