You've just got engaged and can't wait to start a Pinterest board and open up a new spreadsheet. But before you let your mind run away with the idea of extravagant wedding gowns and floral displays, read our Wedding Co-ordinator Stevie's top five tips to start planning your dream wedding…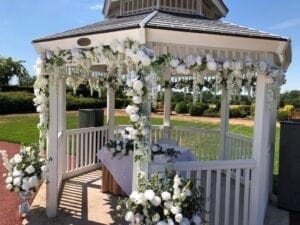 Communication
Planning a wedding is a stressful time for even the most easy-going couple, which is why communication is key. Chances are you've already thought about your wedding day and how it may look but be prepared to compromise. From the start of the planning process, it's important to involve your partner in even the smallest decisions. Be open to hearing each other's ideas and find common ground. Remember, it's their day too!
Budget
Communication is extremely important when discussing your budget. Before you do anything, sit down and have an open and honest discussion about how much you can both afford to save and spend in the coming months. This will help you set a date knowing that everything will be paid off by the time the big day arrives.
Dates
Setting your budget early on will make choosing your dates a lot easier but there's still plenty to be done when planning your wedding. When setting a wedding date, bear in mind the decisions to be made and the availability of venues, photographers, caterers etc. Also, consider the time of year you want to get married. Are you looking for a winter wonderland theme or do you want photos in the sunshine? If you already know, it may be worth looking at a late availability package saving you potentially thousands of pounds.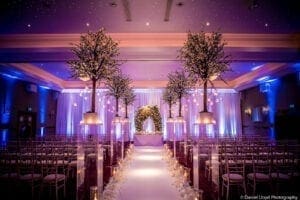 Style
This has the potential to be both the easiest and most difficult decision for you and your fiancé at this point in your wedding planning. What type of wedding do you both want? It could go without saying that you both know it will be in a church or perhaps one of you has envisioned the wedding taking place in a beautiful country estate such as Carden Park Hotel. Struggling to come to an agreement? Research all options and relevant factors and make a list of pros and cons to help you decide what type of venue you both want.
Location
Now that you know when you want to get married and what style of venue you're looking for, it's time to choose the perfect location. This is the one decision that might have a direct impact on the guests that are attending your day depending on how far they can travel. If you're looking to have a local wedding here in Cheshire we have the perfect wedding packages to choose from and can cater for up to 350 guests for your day.
Looking for inspiration? Discover our 1,000 acre Cheshire Country Estate and beautiful outdoor gazebo at our Wedding Evening on the Lawn, August 23rd. To find our more or to book a show-round appointment, call our weddings team on 01829 731555 or email [email protected].