One of Europe's best qualified golf professionals and coaches David Llewellyn is coming home to Carden Park.
The former Welsh champion will return as Executive Golf Professional this Spring having originally worked at the estate from 1994 to December 2002, during this time golf legend Jack Nicklaus and his son Steve designed the now famous Nicklaus Course.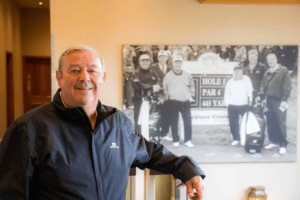 He was lucky enough to caddy for Jack in the opening exhibition match with Ian Woosnam. A Photograph of David alongside Jack, who won 18 major championships has remained above the stairway in The Clubhouse for over 22 years.
David will be responsible for looking after the Club's private members and visitors and will be raising the profile of the new golf Academy which was awarded PGA Accreditation at the start of this year.
Having become a professional golfer in 1968, over the last 50 years he has won the world cup of golf for Wales alongside Ian Woosnam and also 10 tournaments worldwide. Further career highlights include being named Henry Cotton Rookie of the year aged 20 and breaking the lowest 72-hole score in a European Tournament, a record he held for 25 years.
In his coaching career he has helped 11 players to progress to the Tour. David prefers uncomplicated coaching methods and will be helping players at Carden develop all aspects of play from swing technique to short game control alongside the importance of mental focus which he has studied for over 20 years alongside a renowned golf and sport psychologist, Alan Fine.
To find out more or to book a coaching session, please email [email protected].