It's still golfing season and what better way to celebrate than with a great golf day with us at Cheshire's Country Estate! Here's our top 20 reasons why we are the perfect hotel to book your round with today.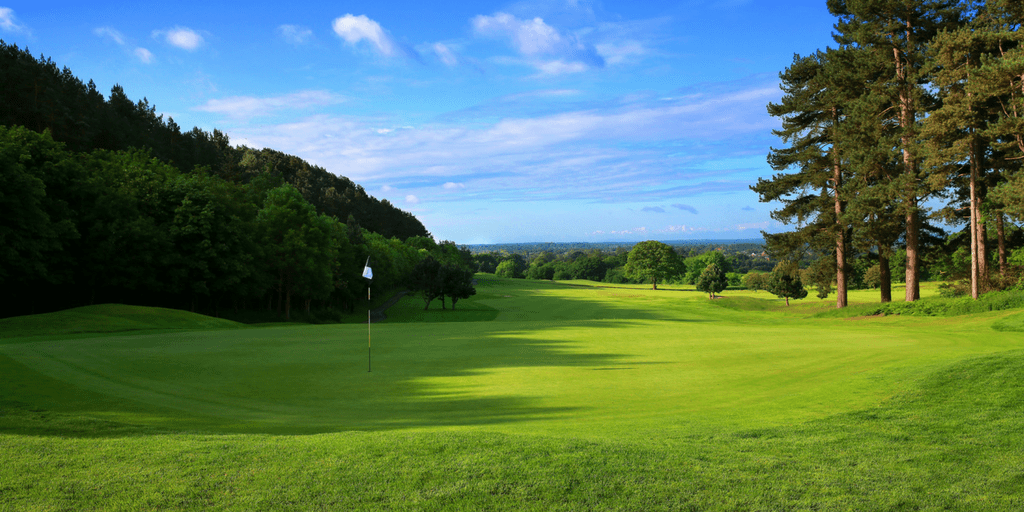 1. Enjoy Your Golf Day In 1000 Acres of Cheshire Countryside
Whether you play on The Cheshire or The Nicklaus Course, you will be surrounded by acres of natural beauty, including our beautiful Cheshire estate, our onsite vineyard and the nearby lush, green Welsh hills. Why not play your sensational swings in peace and tranquility in a luxurious area that seems a world away from the hustle and bustle of the big cities? The perfect break for you this summer!
2. Play On Two Championship Courses
We are extremely proud of our award winning courses, so much so that we have two of them! Will you play a round on the picturesque Championship Cheshire course with a dramatic clifftop finish on the 18th hole or choose The Nicklaus Course, which was expertly designed by legendary American golfer Jack Nicklaus and his son Steve. A must for all golfing enthusiasts!
3. Achieving Your 10,000 Steps
In need of some exercise? Walking just one of our two championship courses will guarantee your daily 10 000 steps and you'll hardly notice the exertion you've given, when you're having a great time with friends and hitting fantastic shots off our perfect fairways. A much easier way of getting that summer body than spending endless nights lifting weights at your local gym.
4. Increasing Morale
Out in the fresh air of the countryside, you'll feel a sudden rush of happiness that you haven't felt for a long time! Experience the amazing adrenaline rush of those dynamic drives and perfect putts as you wander freely around the course, evading lakes, bunkers and our wonderful woodland areas.
5. A Sport That's Perfect For Any Age
Whether you're 16 or 60, golf is a sport than can be enjoyed by a variety of ages. The buzz of hitting that sensational shot will never fade no matter how old you are and those magical memories will last forever. Why not pass on your terrific techniques to your children and grandchildren? Who knows…There may be a new Jordan Spieth in the making!

6. The 19th Hole
The ideal way to finish a round; The Clubhouse offers refreshing pints, bar snacks and a delicious new 'Grill On The Hill' menu. Why not watch your friends stagger in off the Cheshire Course from our outdoor terrace? The perfect place to bask in the British summer sun.
7. Meeting With Friends
Treat your friends to a fantastic four-ball at Cheshire's Country Estate and reminisce over precious times that you've shared past and present. Who will take home that Claret Jug and who will be the butt of all jokes? Afterwards, why not grab yourself a mouthwatering gin and tonic at Morgan's Bar and make new memorable moments?
8. #TeamCarden
#TeamCarden will be on hand to make sure the game you've specifically booked with us goes as smoothly as possible. Enjoy our freshly mown greens and fairways from our hardworking team of green-keepers and feel safe with our marshalls who will be looking out for you as they drive around the course. It's all worth it for those perfectly poured pints at the end of your round!
9. Our Fantastic Buggies
Save your exercise for walking around our beautiful grounds later on that night by hiring one of our fantastic buggies from the Pro Shop to take you around the 18 holes of the course that you decide to play on. A much better way of seeing the picturesque views of the priceless Cheshire countryside and rolling North Welsh hills!
10. Tread In The Footsteps of Heroes
Follow famous players from past and present like next Ryder Cup captain Thomas Bjorn and American legend Jack Nicklaus, who have played on the Cheshire and Nicklaus Courses. Can you match their sensational scores? Or will you get seriously stuck on our series of challenges?

11. Our Amazing Corporate Golf Days
Carden Park has always been renowned for its corporate golf days! With many options including course exclusivity, company branding in The Clubhouse and around the course, fun filled competitions like Nearest The Pin and Longest Drive and a designated event coordinator from #TeamCarden, there's no better place to play with your booming business than at Carden Park.
12. Our Pro Shop
You'll want to look the business when you play on our two award wining courses! Browse through the latest in golf fashion at our fully stocked Pro Shop, including smart and sophisticated Oscar Jacobson, Nike and Footjoy clothing and top of the range Titleist wedges and putters. Why not purchase yourself one of our woollen Glenbrae "Carden Park 20th Anniversary" Jumpers as a magical memento of your time with us?
13. The Perfect Place To Learn A New Sport
Imagine learning all about golf on a course that is nestled in 1000 acres of charming Cheshire countryside and has been played on by so many famous faces in its time. There's only one way to find out…
14. Our Incredible Offers
Enjoy our whole range of great golf offers at Carden Park, like our Midweek Special Golf from £25.00 per person, which includes 18 holes on your favourite course and an 'On Par' breakfast from The Clubhouse. Alternatively, think about our Golf Breaks from £99.00 per person which combines a luxurious stay in one of our 198 recently refurbished bedrooms, an AA Rosette awarded three course dinner and two challenging rounds of golf on our two Championship Courses. The choice is yours at Cheshire's Country Estate!
15. Our Driving Range
Practice your dynamic drives on our driving range with impressive countryside views. Choose how many balls it will take you to reach your optimum level and then come and try it out for real on our two award winning courses.

16. Our Putting Green
Perfect your putting technique on our specially designed putting green. Why not browse through our wide range of high quality putters at The Pro Shop, in order to improve your game?
17. Book A Golf Lesson
Practicing your golfing game has lots of benefits for you in the long run, as well as in the short run. At Carden Park, we have a variety of pro's ready to help you be the best player you can be, whether it is your first time with a club or you are looking to improve your game even further. Why not find your perfect match today?
18. Our Unique Changing Facilities
Our changing facilities at The Clubhouse have always been admired by our golfing guests. With separate changing facilities for ladies and gents, we aim to refresh you before or after your game. If you prefer a sauna experience or to cool off in the rain showers, our facilities have all your home comforts along with lockers for safe storage and vanity areas.
19. Our Golf Memberships
Come back and play on our courses time after time with a golf membership for Carden Park. Enjoy lots of benefits including fantastic discounts on green fees and Pro Shop golf products as well as preferential room rates. To find out more, call our Memberships Team on 01829 731600.
20. Golf Days To Putt In The Diary…
Join us for superb summer and autumn golf days like the Carden Park Mixed Open, the August Bank Holiday Individual Open, the David Edwards Charity Golf Day, and the Halloween Golf Open.